Cambiemos la letra. UNICEF
Ad CAmpaign
Advertising
,
Art Direction
,
Creative Direction
,
HAY CANCIONES QUE CUANDO
LAS ESCUCHAS NO DICEN LO MISMO
QUE CUANDO LAS OYES
El 12 de Junio se celebra el Día mundial contra
el Trabajo Infantil. Un día para recordar que 215
millones de niños sufren explotación infantil.
Este era el mensaje que nos hizo parar y pensar.
Necesitábamos impacto, notoriedad y que
nuestro mensaje perdurara.

SONGS THAT WHEN THERE
LISTEN NO MEAN THE SAME THING
WHEN YOU HEAR
June 12, the World Day Against Child Labour.
A day to remember that 215 million children
are exploited. This was the message that made
us stop and think. We needed impact, notoriety
                                                                                                    Unicef nos presenta niños de nuestro
                                                                                                    entorno, felices, que despreocupados cantan
                                                                                                    sobre la realidad de otros niños que viven en
                                                                                                    condiciones de explotación. Planchar, cavar
                                                                                                    lavar, coser, barrer, todas estas actividades
                                                                                                    no causan preocupación visto desde nuestra 
                                                                                                    manera de vivir occidental, pero es un drama
                                                                                                    si al oírlo pensamos en la realidad de niños
                                                                                                    en países y continentes menos
                                                                                                    desfavorecidos. Así que ¿por qué no cambiar
                                                                                                    Unicef ​​presents children around us happy, that
                                                                                                    carefree sing about the reality of other children
                                                                                                    living in conditions of exploitation. Board, dig
                                                                                                    washing, sewing, sweeping, all these activities
                                                                                                    do not cause concern seen from our Western
                                                                                                    way of life, but it is a drama if we heard it in the
                                                                                                    reality of children in less disadvantaged
                                                                                                    countries and continents.

So why not change


MECÁNICA DE LA C
AM
PAÑA
MECHANICS OF CAMPAIGN
cambiemoslaletra.com
es un site adaptado a cada día de la semana. 5 niños distintos nos dan la bienvenida, adaptando la canción según el día de la semana en el que visitemos el site.
En total 35
vídeos para dotar a la campaña de múltiples caras para atrapar y concienciar al espectador.
adapting the songas the day of the week you visit the site. In total 35 videos to provide multi-faceted
campaign to catch and educate the viewer.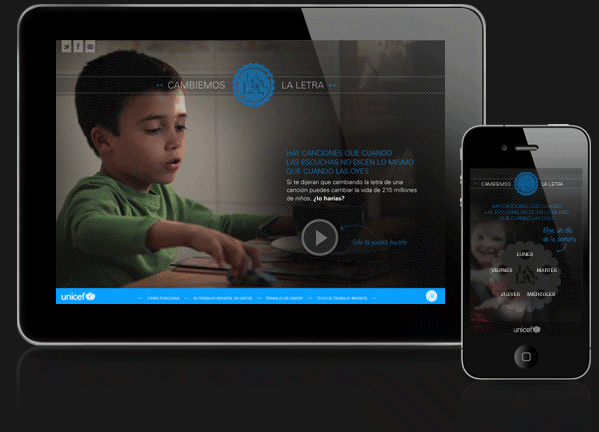 Una vez lanzado nuestro mensaje, a través de un SMS cuyo coste íntegro iba
destinado a UNICEF
, nuestros espectadores podían cambiar y ver
en tiempo real la nueva realidad de nuestros niños que ellos habían creado.
Once launched our message through an SMS which was aimed at full
cost UNICEF

, our viewers could change and view in real time the new reality
of our children that they had created.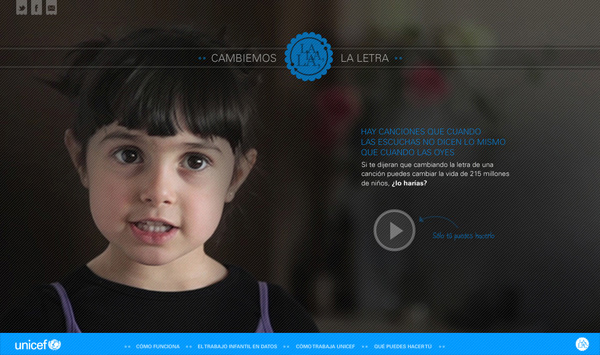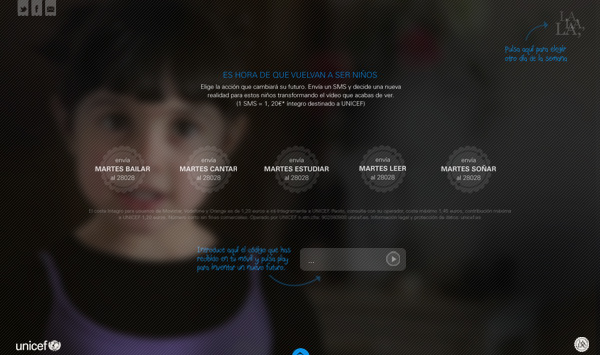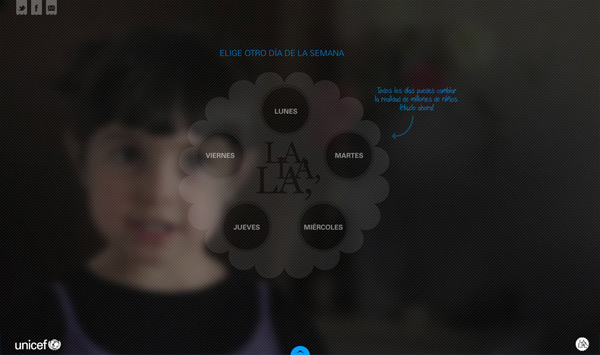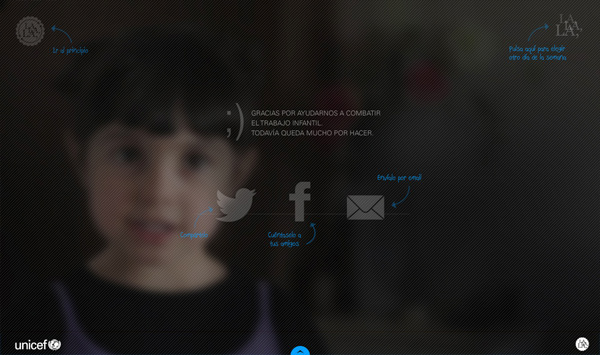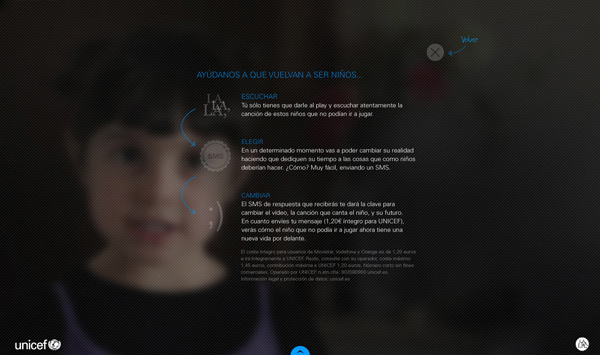 LAS SECCIONES EN DETALLE
SECTIONS IN DETAIL